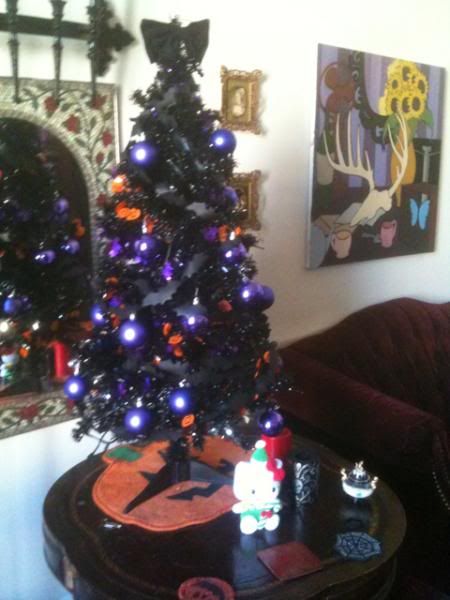 For most retailers, it seems as though the official start of the holiday season is the day after Halloween. For myself (and I hope most people....), it is the day after Thanksgiving. Let each holiday have it's place without jumping the gun., is my opinion. But now that Thanksgiving has, technically, passed I can begin merry making guilt-free.
If in everyday life you refuse to settle for boring clothing, cellphone cases, laptop skins, nail art, et cetera....why settle for reindeer sweaters once Christmas rolls around? I find everything more enjoyable with a personal touch, and holidays are no exception.
So, your tree is boring? It's easier to have your own tree when living by yourself, but if your parents object, just move it into your bedroom and opt for a smaller plastic pine.
I went to Walmart the other day and picked up a 3.5 ft black pre-lit tree for $18 (there was also white, pink, and green for the same price). If money is tight, go to a thrift store, pick up a pre-owned green one, and have at it with the spray paint. You can make it pink, white, black, purple, any color! I recommend Quik Color for about $.99 cents a can, and please, go outside when you spray.
For lights, I bought purple and orange string lights back at Halloween and saved them. If you don't want the usual gold or multicolor at your local store, get thee to the internet. Just type in the color your want to google shopping and voila! For a topper, it was actually my boyfriend's idea to take one of my many detachable bows and pin it on top.
For ornaments, I bought a 12 pack of purple bulbs at Walmart for $5, they had a whole variety of colors. I opted for plastic instead of glass because I have cats that like to destroy things.
The etsy store Pocket Full of Posiez is selling
adorable ornaments
, most of which are of the gothic persuasion but all of them are cute!
Who doesn't want a bat with a candy cane?
Or a pile of cupcakes?
In clothing, if you want to avoid the dreaded holiday sweaters and cheesy socks, try adding wintery fabrics to your wardrobe like velvet and corduroy. Try a beautiful hunter green or burgundy! Fanplusfriend makes
this JSK
and
this JSK
, both which I own and can tell you look beautiful in person. The first is the most lovely dark red velvet, much prettier IRL than in their stock photo. If a main piece like a JSK or OP is too much color for your taste, accessories are a perfect way to completely change the feel of a coordinate. Opt for warm jewel tone gloves and detachable bows, or perhaps pin a bit of holly to your collar. Even better, how about a velvet corset? Timeless Trends offers
this
burgundy corset in overbust and underbust.
A nostalgic accessory I particularly love is the hand muff! A timeless substitute for gloves or mittens, I find they they look elegant and adorable at the same time. Very easy to make on your own, it is essentially a wide tube with a warm liner fabric like fur or fleece (sometimes on both sides, though some people prefer wool as the outer layer). It is important to remember a loop to hang it from your neck or arm when you need your hands free.
For those of you who dislike holiday music, like myself ("Cool Yule" or "Santa, Baby" is more than enough to make me strongly desire to jump out a window), there are a few alternatives, though not particularly lolita.
Based on my personal taste which leans towards goth rock and its ilk, I mostly listen to The Nightmare Before Christmas soundtrack (the original and the deluxe album with remakes by popular musicians), the Trans Siberian Orchestra (metal-y covers of classic Christmas music), and Vampires from Hell (dirge-like organ versions of holiday songs, traditional but very gloomy and haunting).
No matter what you celebrate, I hope you all have wonderful holidays!
Sincerely,
Jayne, Peter, and Christmas Hello Kitty