After teetering on the fence for a couple months, I decided to finally go ahead and make an order with
Gloomth
, a online Lolita/Goth/Victorian inspired clothing store based in Ontario, Canada. I purchased the
Anther JSK
.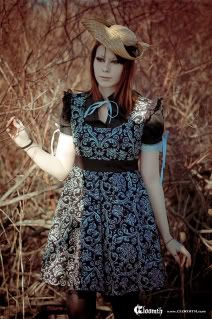 Communication
I emailed to ask about production speed and got a response from Taeden very quickly, within a few hours. When I placed my order, I received an automated email as well as a personalized email with further information. The same happened when my package shipped.
Communication: 5/5
Shipping
On their website, Gloomth promised North American orders placed before the 20th of October would arrive in time for Halloween (the store is currently make-to-order, in the process of switching to shipping from stock). I made my purchase on October 19th (cutting it close, I know), but it only just arrived today, November 4th. While my order did ship Thursday the 28th, before Halloween, no standard speed package is going to make it from Ontario to Baltimore in two days. Fortunately, I didn't actually need it for Halloween.
Here is how it arrived: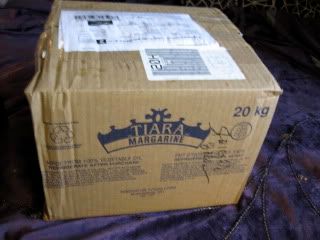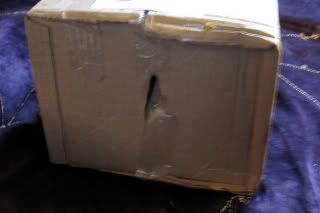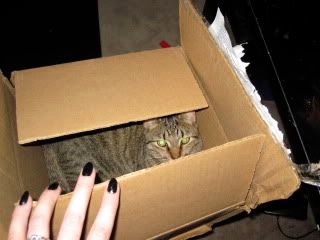 Kitten not included.
I got a kick out of the margarine box, but my goodness, what a rough trip it must have had! There was a hole punched clean through, as you can see. Inside, the dress was wrapped in black paper (with stickers!).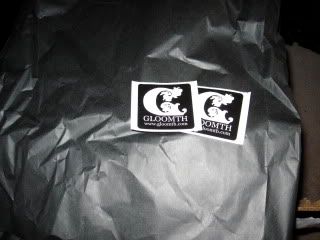 While I understand that the damage up to the post office, I wish it had been wrapped in plastic. With the hole in the box and all, it could have gotten water damage (even without a hole, cardboard isn't great against water).
Shipping: 3/5
Quality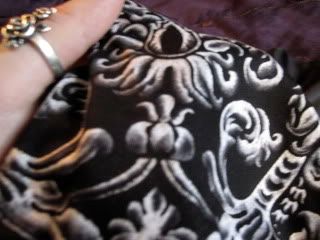 It looks pretty much exactly like the website's photos, except longer. I'm 5'6 and it is knee length (which is good, in my opinion). It is lined with a built in tulle petticoat (and a layer underneath the tulle so it's not scratchy). I inspected the seems and found no flyaway threads or imperfections. I was surprised by how well the dress holds it's shape. The white parts of the fabric have silvery glitter highlights, but they're very subtle and impossible to capture with my camera.
Here I am wearing it: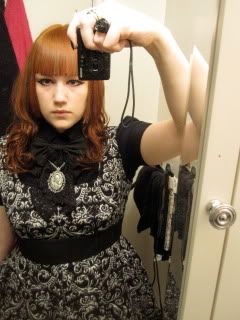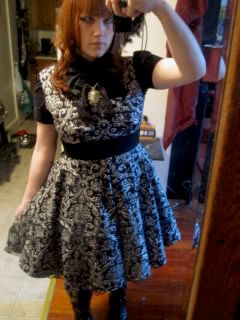 I wore it to class and it was very comfortable and didn't wrinkle from sitting down. I was also unexpectedly hit with pouring rain on my way home, and the pattern didn't run or bleed at all when drenched.
Quality: 5/5
Overall, I'm really happy with it. The dress is fuller and longer than I expected, and I really love how it fits and looks on me.
Final score: 13/15