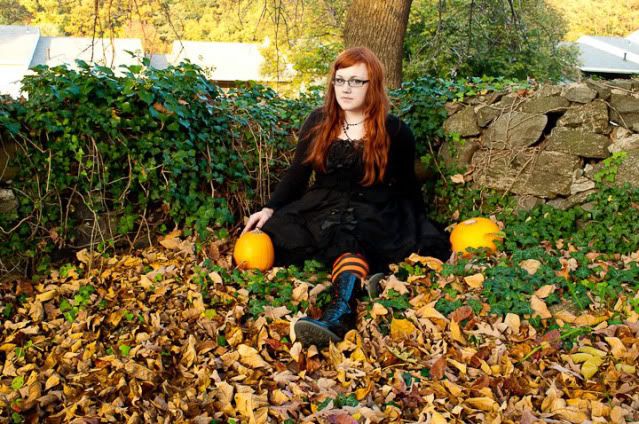 Ah, Halloween is just around the corner! It really sneaked up on me. Another crazy-busy month has already flown by. This year, I'll be spending my Halloween weekend in New Orleans attending ARVLFC's
Annual Vampire Ball
on the 28th. I am so ridiculously excited, and I have so much to do. I haven't even decided what I'm wearing yet!
Anyway, this weekend I took a break from midterm craziness with the lovely Miss Kimmah. We put on appropriately Halloween-y outfits (isn't hers great? She made the skirt herself) and our matching tights, and stomped off to a pumpkin patch. The rain stopped finally, the weather was beautiful, and so despite getting hay in my petticoat, I'd say it was a successful day. One our way back, we discovered a tiny little 19th century graveyard next to her apartment complex.
Kimm took lovely photographs of our outing. Click to enlarge.

The Pumpkining begins.


We then took our spoils to her place and proceed to gut them most violently. Kimm's is Hello Kitty and mine is a spooky house/nightscape.


I hope that all of you darlings have a lovely, spooky holiday! Stay safe and don't take candy from strangers!