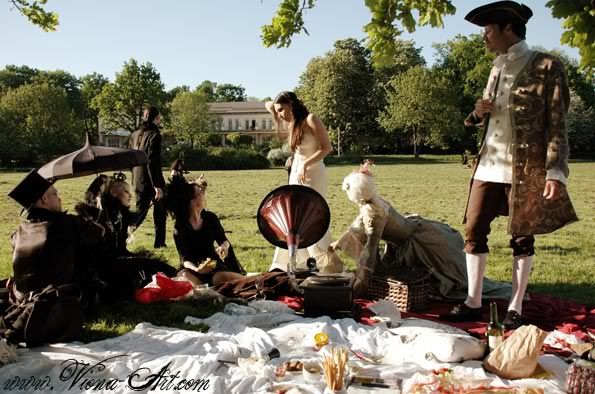 Being that it's still April, this might seem like jumping the gun, but my mortal fear of heat and humidity already has me diving for my parasol. Summer is a hot and torturous affair here in Baltimore, so keeping cool is a major part of my spring/summer wardrobe. Here's some tips to keep your cool this season.
1. Carry a parasol! A very popular accessory in all seasons, the parasol is a godsend in hot weather. Not only does it keep the sun off your skin, the shade it provides lowers the temperature of your personal bubble by several degrees. I carry one everyday when I walk to college. Brand parasols run anywhere from $50-200, and there are a variety of offbrand ones for around $40.
2. Wear a JSK with a bolero instead of a blouse. The debate over blouseless JSKs still rages on, but no one will fault you for going blouseless with a cute short sleeve bolero. Removing that extra layer of a blouse makes a huge difference. I think some JSKs can look nice without any shoulder coverage, but that's up to personal preference.
3. Wear square and scoop necklines. The classic Peter Pan collar can be constricting in high temperatures, so look for blouses with an open neck. It's also very easy to find OPs in this style.
4. Do an updo! Continuing with the principle that the less material touching your skin the better, keep your hair out of the way too. Try victory rolls, bouffants, teased pigtails, buns, braids- there's bound to be a cute updo within your skill range (this is coming from someone who only recently learned how to use a curler). I personally love the braided headband style.
5. Forgo kneesocks and tights for shoes with straps or laces that go up your calf. The straps provide elegance and visual interest and let your legs breathe more. To keep your feet from getting sweaty, wear heel socks.
6. To avoid the dreaded "driver's tan", keep elbow gloves or arm warmers in your car. Obviously, this only applies to those who drive. There's not much you can do to escape the sun coming through your window when driving, so keep armwear in the glove box to avoid that icky uneven tan.
Or you could, y'know, hibernate and reemerge in the fall.