Ahhh, Halloween, the most magical holiday of all! The weather is finally cool and department stores carry awesome tights, accessories, and decorations. For some, it's an excuse to wear lolita, but for those like myself, there's a bit of a crisis- How do you dress to be different when what you wear everyday is "different"? At the moment, I'm considering two options- Wear something fancy that I'd save for a meetup or wear something colorful, out of my usual sombre color scheme.
Anyway, my boyfriend and I kicked things off last night with carving pumpkins! Even my kitten, Byron, helped out.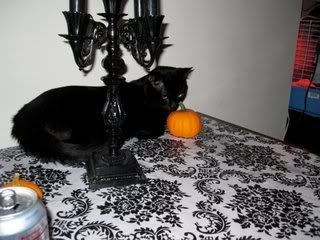 Friday, we're going to my local gothclub, maybe Saturday night too. Sunday, Halloween, I'm hosting a tea party for my local group, so expect plenty photos of spooky goodness!
What are your plans?
In other news, recently, I got a
new coat
from Chicstar.
I'd recommend it for the price, $79. That might seem steep, but honestly, coats are always expensive. Even Bodyline's winter coats are pricey. Anyway, It fits very well over poofy skirts, has a cute round collar and puff sleeves, and lovely black lace trim on the bottom hem and pockets. My one complaint is that the velvet is on the cheaper side. There's a good amount of spandex in it and thusly it is stretchy, but the silk lining it not stretchy. That doesn't really affect the fit, it's just a little odd.
Expect other clothing reviews soonish, today I just recieved a beautiful burgundy velvet JSK from F+F (haven't had a chance to coordinate it yet), and finally made an order with Gloomth (a JSK and a skirt).
I love velvet, oh yes I do.