Want to know how to make cheap, darkly elegant decorations for your frilly abode in two easy steps?
1. Go to a thrift store or dig through your storage and find something with potential to be awesome, even if it is a tacky color.
2. Apply black lacquer spray paint.
and Voila!
Here I have an old candelabra. $4 at Goodwill. The middle candle holder was broken, but I fixed it with some glue. Remember, it doesn't matter if the glue doesn't match, it will be all one color eventually! Goodwill is my preferred thrift store, for some reason they always seem to have better stuff. If you live in the middle of nowhere, don't be discouraged, sometimes out of the way places have the best junk! I once spent $50 in an Indiana Goodwill.
So, remember color doesn't count. A lot of items that look cheesy originally turn out very sophisticated once in a flat color. Intricate details and texture look very cool when blackened. If you're artistically inclined, you can "draw" with hot glue to create texture and patterns before applying the spraypaint.
The result: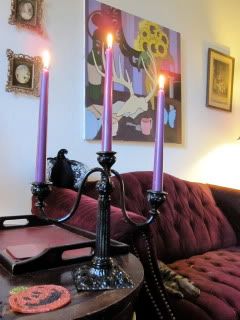 Other things I've spraypainted: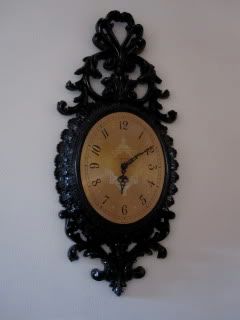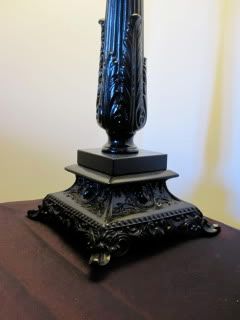 With the additional help of this easy makeover, an awesome interior is not as difficult or expensive as you might think.
Here's my living room.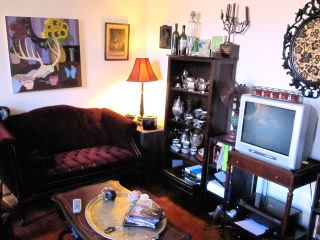 Velvet couch- Free, it was curbed near my boyfriend's place.
Black velvet couch- $100 Ikea
Red brocade chsir- Hand-me-down I had reupholstered.
Shelves- $50 Ikea
Ornate frame- $30 Ikea. Inside is wrapping paper.
Coffee table- $30 Salvation army.
Carpet- $20 Ollie's Discount Outlet.
Globe- $4 Goodwill.
Fan- $30 Costco
The other odds and ends you see are from discount stores like TJ Maxx, more thrift stores, and the basements and attics of family members.
I also like to decorate with my own artwork, like the painting behind the couch. Apply spraypaint to cheap but well decorated frames, stick in a picture from a magazine, or one of your own drawings and it's ready to go!