Firstly, I would like to thank my readers sincerely for getting me to 100 followers! Honestly, I'm just thrilled anyone reads this blog at all, haha. So hugs and kisses and macaroons to you all <3
Currently, I am blogging to you on the go from Denver International Airport, waiting for my connecting flight to Los Angeles. Monday, I am going for LA to San Francisco, then back to Baltimore on Thursday (guess who's on spring break?). Whilst in San Francisco, I fully intend to check out the burando in Japantown, of course. If any of you are SF lolitas, I would love recommendations on where else to visit!
Last night, I went to Obscura, Club Orpheus's awesome
real
Goth event held every second Friday of the month. Completely legitimate post-punk and goth music all night, I kid you not! I wish every they did it every Friday, le sigh.
Anyway, I felt very fancy and had a great time, despite running a fever and suffering from fainting/sinking spells for the past few days. I wore my new bat-buckle pointy boots, surprisingly comfortable for dancing. My boyfriend was wearing a black silk shirt and looked terribly like Draco Malfoy, but would not pose for a picture (spoil-sport!).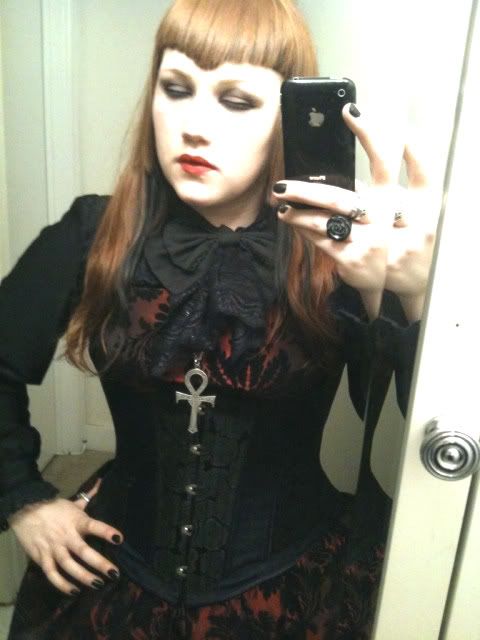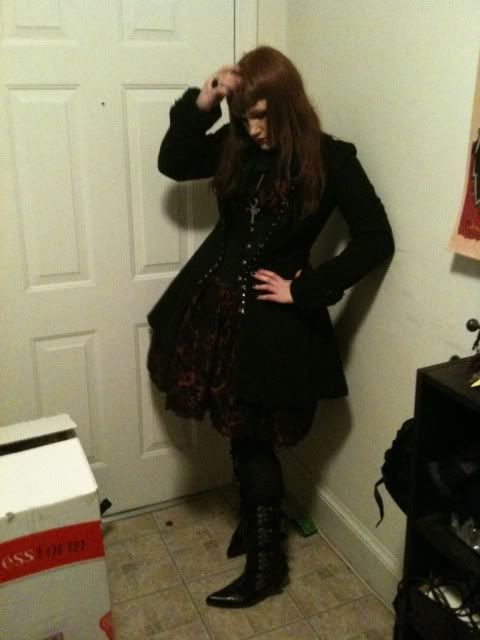 Posing in the least attractive parts of my apartment, for the sake of lighting.
JSK: Handmade
Blouse: F+F
Corset: Timeless Trends
Boots: Demonia