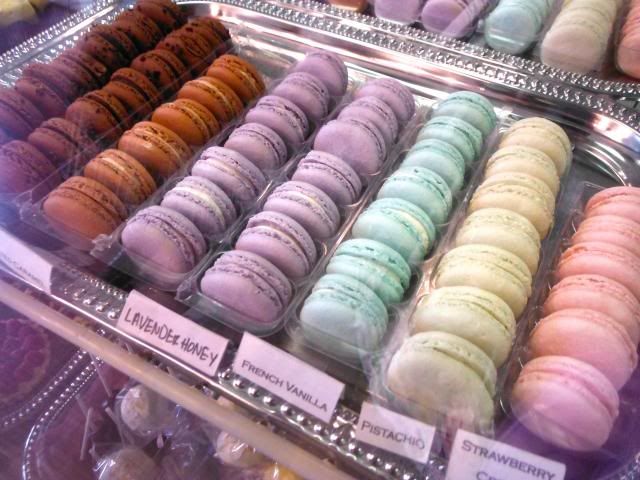 Yesterday my lovely friend Erica and I went on a lolita day out to investigate an adorable bakery in Annapolis,
Sweet Hearts Patisserie
. We hadn't had a macaron in years, so it was about time!
Anyway, I am totally in love with this place! It's small, but just so cute. And the decor is all silver and purple!
We'd never had petit fours before, which as it turns out are tiny cakes. And they are delicious. They also served Paris Iced Tea, which is slightly fruity and naturally somewhat sweet. We bought a sampling of different flavors of petit fours and macarons, all of which were amazing! They had flavors like Earl Grey, Triple Chocolate, Ginger, and Raspberry Rose. However I think the clear winners were Lavender & Honey and Salted Caramel. Seriously the best flavors I've ever had.
I thought it appropriate to wear my Angelic Pretty Dreaming of Macarons dress. It's a print I've had my eye on for awhile and I hadn't had a chance to wear it out yet.
Macaron, meet macaron dress.

OP, Headbow: Angelic Pretty
Starclip: Chocomint
Necklace, Bracelet: Angelic Pretty
Bag: Loris
Shoes: Bodyline


Afterwards we saw Star Trek into Darkness, which was pretty neat to. Also the first time I've smuggled fancy french pastries into a movie theatre.